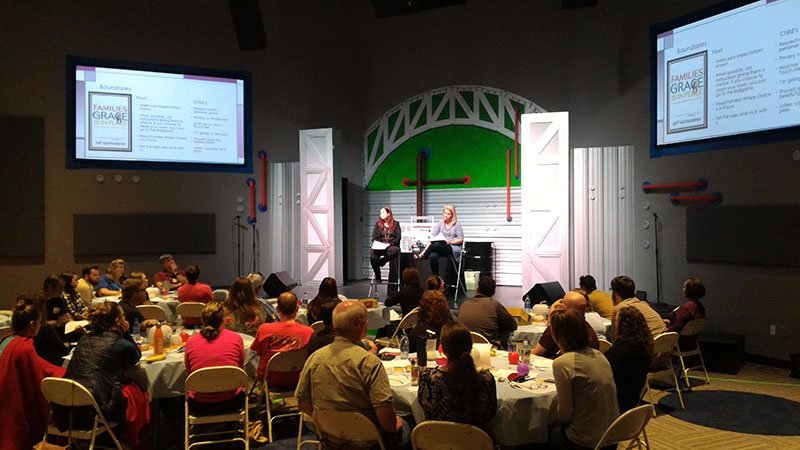 On October 1st, Tammy and Brooke had the opportunity to train foster parents regarding the issue of childhood sexual abuse at North Point Church in Alpharetta. The training session called Fostering Together, A Day of Counseling and Guidance for Foster Parents, was organized by Lesli Reese, Grace Segars, and their amazing team at North Point Ministries.
Foster parents not only need support from professionals, they also need guidance to help children who present with issues they have not dealt with previously. Sadly, many children coming into foster care have been sexually abused. King's Treasure Box was invited to introduce Jingles and Lil' J to the foster families, and to help them glean a better understanding of the trauma through Tammy Kennedy's testimony and Brooke Atkinson's expertise.
The speaking session was a great chance for everyone in the room to learn about child sexual abuse from a different point of view. Tammy presented the horror of the abuses by sharing her own experience, narrating episodes and memories from her childhood as real examples of what children could have lived through. Parents had the opportunity to ask questions and learn how to recognize a specific type of behavior that is often rooted in the child's previous abuse, used as a coping mechanism, and taught what to do in those cases. Also, thanks to the knowledge Brooke has from her eleven years as a police officer in the special victim's unit, and her training as a child advocate, the families were taught how to better navigate through court proceedings.
We were glad to provide the parents with a copy of What Now – A Parent's Guide. This great resource tool provides a deeper understanding of how to better help a child after sexual abuse and offers much needed information about the legal system. Feedback from the event included, "Thank you, ladies!! You all did a fabulous job. I'm so thankful our families got to hear your session."  Grace Segars, Coordinator of Fostering Together at North Point Ministries.
An extract of the video from the speaking session will soon be available.